The Corporate Context, Organizations and Managing People
This chapter deals with the corporate context of organizations. Many firms, public sector bodies and even nation states seek to create and maintain a strong sense of 'corporateness' to be simultaneously different from others while remaining legitimate. They do so by developing strong brand identities, exercisong good corporate governances and leadership, and showing the world a socially responsible face. This field of study is increasingly known as reputation management, a new lense through which to see organizations.
There are important reasons as to why corporate reputations are becoming more important, including the decline in general levels of public trust in organizations following disasters like Enron and numerous examples of executive greed, and problems associated with inferior and dangerous lines of products and services. More positively, brands and reputations, along with superior knowledge, are among the most important intangible assets that organizations possess, especially in a world where firms in developed countries can no longer compete with low-cost organizations in developing countries.
So, just how do organizations manage their corporate reputations. One view is that reputati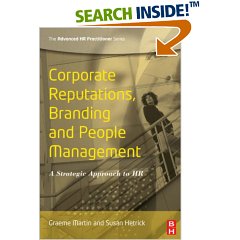 ons are driven from the inside out by the ways in which employees and managers think, feel and act. Conversely, strong reputations are needed to attract the one resource that is capable of creating the intellectual capital that organizations in developed economies need to function, and that is talented people. This chapter examines this virtuous circle, showing how firms manage brands and reputations through effective people management and human resource practices. Readers wishing to know more about this field might want to read the book I've recently written with Susan Hetrick, 'Corporate Reputations, Branding and People Management: A Strategic Approach to HR' (see new book site) and a report for the CIPD with Phil Beaumont.
These books form the basis for a specialist centre I run at the University of Glasgow called the Centre for Reputation Management through People (CRMP). The role of the centre is to provide research, consulting and advice in this emerging field. We have conducted a number of research projects into the reputation of business schools, employer branding among companies and work for the CIPD and HRPAO in Canada.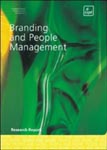 Listen to the Gurus
Charles Fombrun is probably the best known writer on Reputation Management. Listen to a podcast from the Reputation Institute by clicking on the site and going to the RI publications page. Click on the click here to order link and you can access a good free podcast by Charles Fombrun.
Until his resignation in 2007, John Browne of BP was seen as one of champions of corporate social responsibility. Watch this MIT video fetauring Browne talk about the Purpose of Business.
One of the most recognisable 'celebrity brands' is Google. Watch a clip of film on this company and its operations. Why has it become one of the best known brands of all time?.
Watch a panel discussion featuring Lord Browne and Rakesh Khurana from Harvard on 'Does Business have a Noble Purpose' for some insights in the corporate social responsibiliy agenda
Listen to Key Issues
Branding is increaingly important to organizations in the for-profit and not-for-profit sectors of economies. So What's in a Name? Listen to this radio programme exploring the issue of branding.
One of the key issues in affecting corporate reputations in executive pay, which has been the subject of a great deal of controversy. Listen to the programme on Pay in the Boardroom .
Additional Reading
Fombrun, C. J. & Van Riel, C.B.M. (2003) Fame and fortune: how successful companies build winning reputations, Upper Saddle River, NJ: Financial Times/Prentice Hall.
Martin, G. & Hetrick, S. (2006) Corporate reputations, branding and managing people: a strategic approach to HR. Oxford: Butterworth Heinemann.
Ideas on Customising the Material
Here's an interesting article on the (ir)relevance of branding to the public sector produced by the consultants Precedent Communications. It is worth reading to put the case against and for.
Webliography
The Reputation Institute website has access to some free material.